INFINITI of Akron is proud to announce INFINITI ranks No. 1 overall in 2018 J.D. Power Customer Satisfaction Index.
This year INFINITI earned top honors, taking the No. 1 spot industry-wide in the J.D. Power 2018 Customer Service Index (CSI) Study.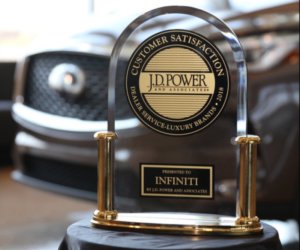 J.D. Power Award Recipient
Each year, J.D. Power presents awards for quality, dependability and performance, to a select few models within the marketplace that have ranked highest within their category. Awards are also given for car dealership sales and service experience to those brands that rank highest in the industry.
INFINITI was awarded 1st in J.D. Power Customer Satisfaction Index.  Overall, INFINITI achieved a CSI score of 876 on a 1,000-point scale, 48 points above the industry average and 14 points above the premium segment average.
The study measures customer satisfaction with service at a franchised dealer or independent service facility for maintenance or repair work among owners and lessees of 1- to 3-year-old vehicles.
Service quality affects whether a customer will recommend using a dealer for service or sales, as well as their loyalty intentions toward a particular brand or model. Scores in the service quality measure improve 39 points to 821 (on a 1,000-point scale) since the study was redesigned in 2015. Other measures in the study showing year-over-year improvement include service advisor (+12 points); service facility (+11); service initiation (+10); and vehicle pick-up (+10).
Highest-Ranked Brands
INFINITI ranks highest in satisfaction with dealer service among luxury brands for the first time since 2003, with a score of 876. Ranking second in the luxury segment is Porsche (874). Audi, Cadillac and Lexus rank third in a tie (871).